Jack Shainman Gallery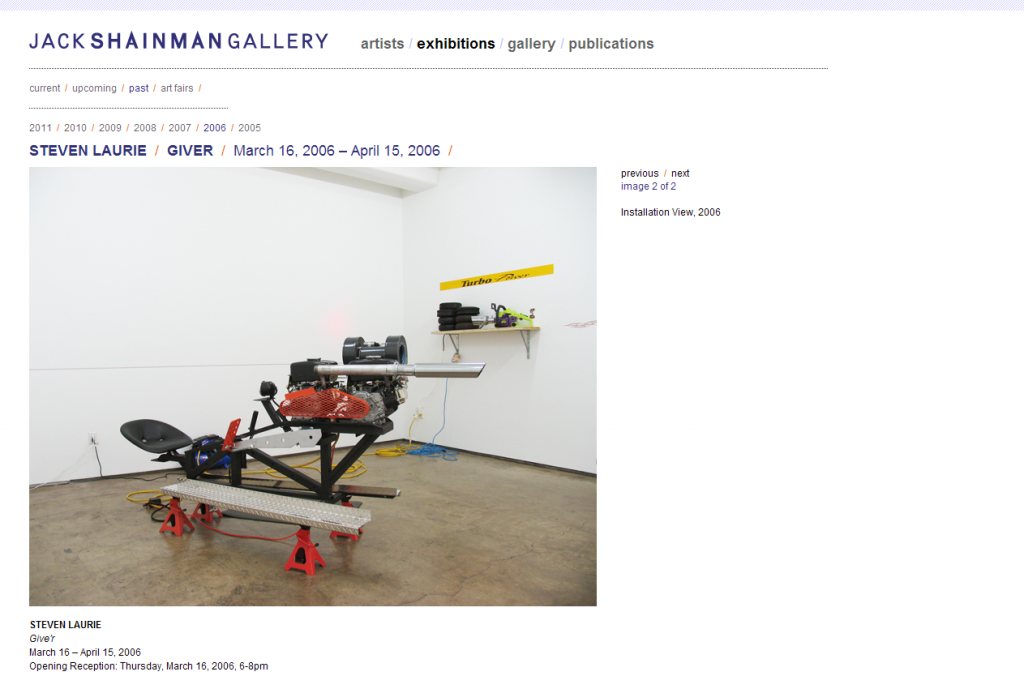 Give'r
March 16 – April 15, 2006
Opening Reception: Thursday, March 16, 2006, 6-8pm
Jack Shainman gallery is proud to present Give'r, the first solo exhibition in New York by the Canadian artist Steven Laurie.
For this exhibition, Laurie presents a number of hybrid, gas-powered machines that combine masculine labor and leisure. Part suburban backyard mechanic, part performance artist, Laurie explores clichés surrounding male identity and behavior by creating "hyper-masculine" machines.
In one work, Laurie isolates the action of burning rubber, borrowed from car culture, by creating a specialized hand tool that is held like a chainsaw. This and similar other objects in the exhibition, according to the artist, seek to highlight "the slippages within the normative ideas of labor and leisure, gendered identity and performance." The creation of these tools represents an exploration and a critique of Western auto-dominated culture and where machines become a vehicle to perform masculine roles. Laurie often offers "demonstrations" of these machines, using the byproducts of sound, smell and performance to provoke discussion and reaction.
Other works in the exhibition include a handheld revving machine as well a stationary reclining framework in the form of an exercise machine but also with a revving function, powered by two gas engines. These specialized gas-powered tools are meticulously fabricated by the artist from steel, machine parts and exhaust tips. Laurie will additionally present a collection of car decals that illustrate the notions of masculinity explored in this exhibition.
Concurrently, Laurie will be presenting a solo project at M.O.C.C.A. in Toronto. He has also exhibited at the Durnham Galleries in Durnham, Ontario, the Toronto International Art Fair, the Cambridge Galleries, the Visual Art Centre of Clarington, Bowmanville, and the Whitby Station Gallery, Whitby. His work is included in publications such as Showcase 05 (Cambridge Galleries, Cambridge, 2005), and Random Cities (McLaughlin Gallery, Oshawa, 2003)