Akimbo Burning Rubber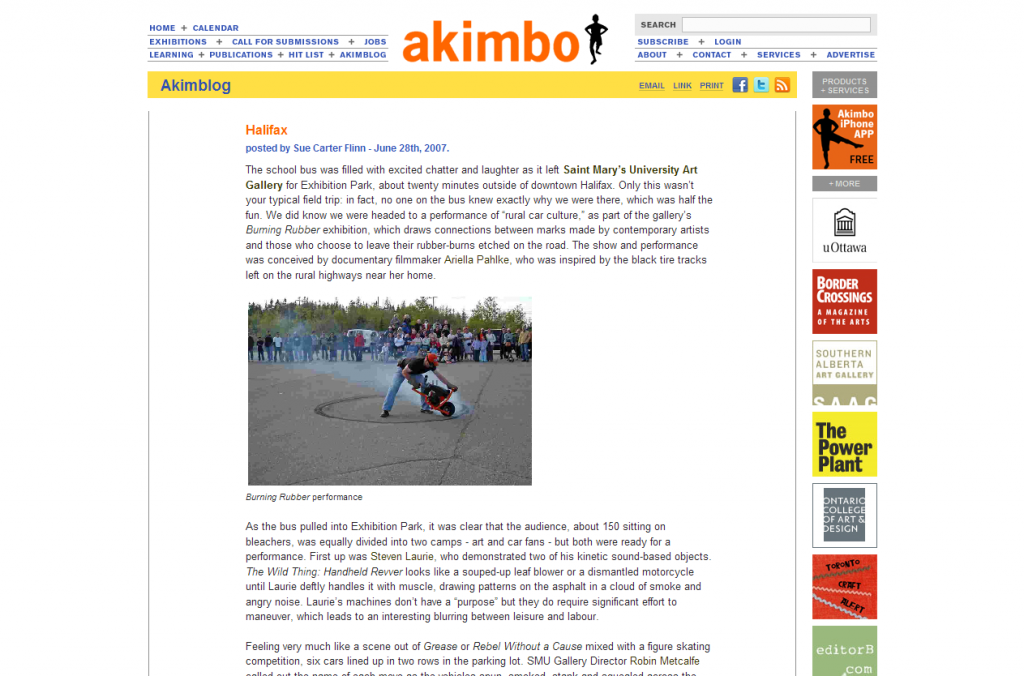 Halifax
By Sue Carter Flinn – June 28th, 2007.
The school bus was filled with excited chatter and laughter as it left Saint Mary's University Art Gallery for Exhibition Park, about twenty minutes outside of downtown Halifax. Only this wasn't your typical field trip: in fact, no one on the bus knew exactly why we were there, which was half the fun. We did know we were headed to a performance of "rural car culture," as part of the gallery's Burning Rubber exhibition, which draws connections between marks made by contemporary artists and those who choose to leave their rubber-burns etched on the road. The show and performance was conceived by documentary filmmaker Ariella Pahlke, who was inspired by the black tire tracks left on the rural highways near her home.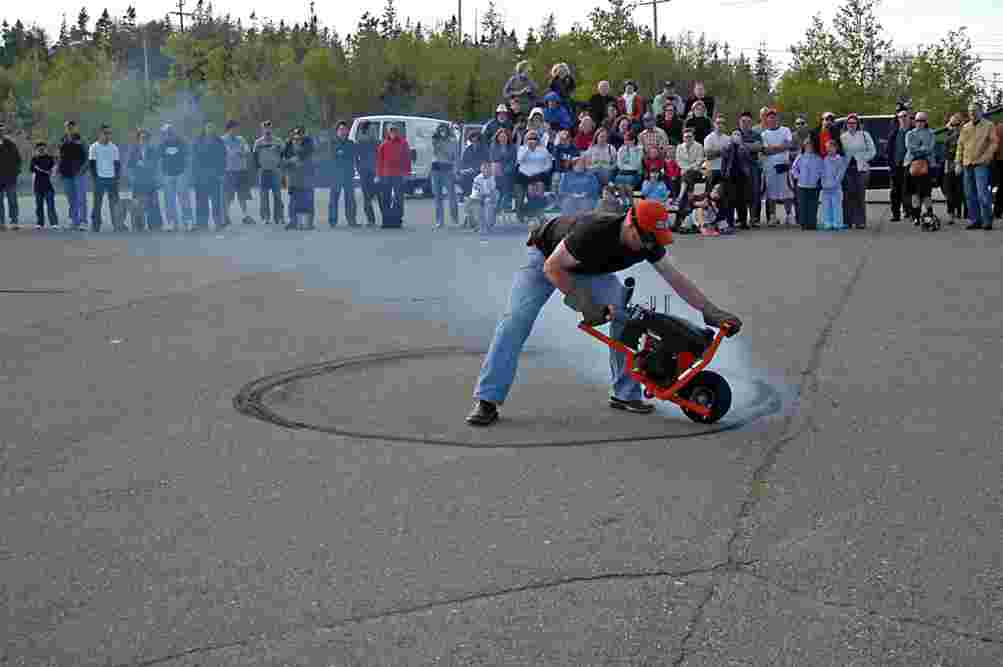 Burning Rubber performance
As the bus pulled into Exhibition Park, it was clear that the audience, about 150 sitting on bleachers, was equally divided into two camps – art and car fans – but both were ready for a performance. First up was Steven Laurie, who demonstrated two of his kinetic sound-based objects. The Wild Thing: Handheld Revver looks like a souped-up leaf blower or a dismantled motorcycle until Laurie deftly handles it with muscle, drawing patterns on the asphalt in a cloud of smoke and angry noise. Laurie's machines don't have a "purpose" but they do require significant effort to maneuver, which leads to an interesting blurring between leisure and labour.
Feeling very much like a scene out of Grease or Rebel Without a Cause mixed with a figure skating competition, six cars lined up in two rows in the parking lot. SMU Gallery Director Robin Metcalfe called out the name of each move as the vehicles spun, smoked, stank and squealed across the asphalt in tightly choreographed patterns. It was loud, smelly and exhilarating, and the crowd loved it; after the performance, everyone gathered around to check out the blown-out tires and melted rubber divots all over the pavement. (View the Exhibition Park performance: http://www.youtube.com/watch?v=nzIn3UCBOqc.)
Back in the gallery, the exhibition is as overwhelming as the performance, packed with quotes, trophies and photos from local car enthusiasts, as well as work from a variety of international artists, including Lori Hersberger's gigantic tire-burn paintings and Hans Moonen's photographs of highway tire burnouts. Admittedly, as a non-driver, it's difficult for me to understand the car culturists' passion (let alone imagine the environmental consequences), but I can't deny the intense thrill of spinning out in a cloud of smoke.
Read more …http://www.akimbo.ca/akimblog/?id=121