MONDO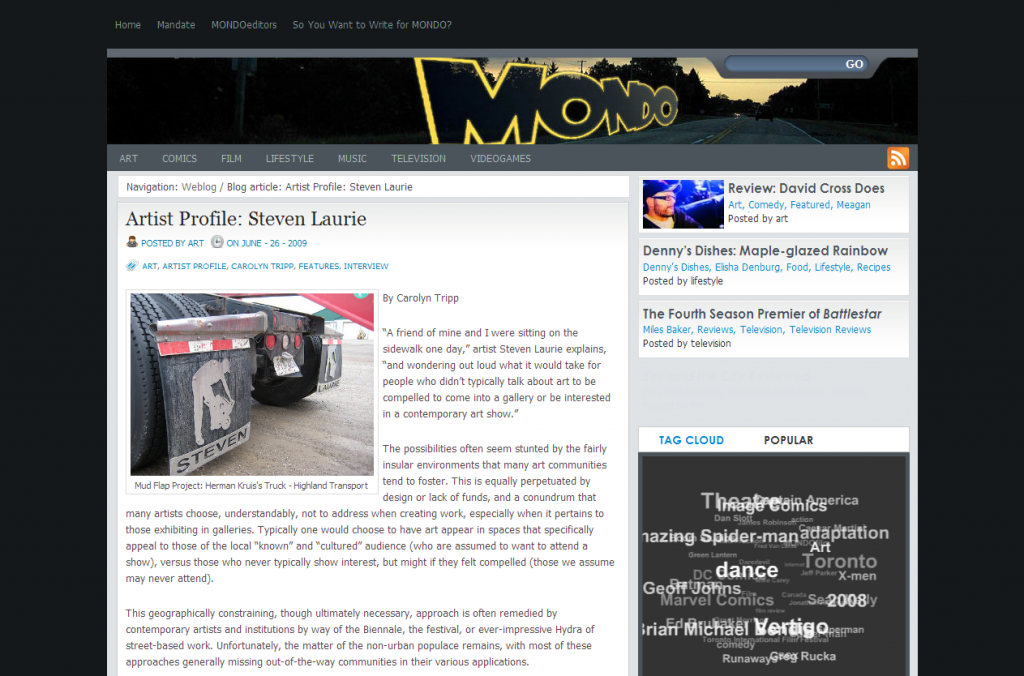 By Carolyn Tripp
"A friend of mine and I were sitting on the sidewalk one day," artist Steven Laurie explains, "and wondering out loud what it would take for people who didn't typically talk about art to be compelled to come into a gallery or be interested in a contemporary art show."
The possibilities often seem stunted by the fairly insular environments that many art communities tend to foster. This is equally perpetuated by design or lack of funds, and a conundrum that many artists choose, understandably, not to address when creating work, especially when it pertains to those exhibiting in galleries. Typically one would choose to have art appear in spaces that specifically appeal to those of the local "known" and "cultured" audience (who are assumed to want to attend a show), versus those who never typically show interest, but might if they felt compelled (those we assume may never attend).
This geographically constraining, though ultimately necessary, approach is often remedied by contemporary artists and institutions by way of the Biennale, the festival, or ever-impressive Hydra of street-based work. Unfortunately, the matter of the non-urban populace remains, with most of these approaches generally missing out-of-the-way communities in their various applications.
To Laurie, there seems an ongoing disconnect between the people who strive to continue contemporary artistic dialogue, and the Canadians who he thinks might be otherwise attracted to the process, if only they were given the appropriate context.
"Why can't we reach out to smaller towns and people who have never been to galleries?" He never saw any reason to the contrary, but the query of how to get art to the farthest reaches of this country within the context of his practice seemed elusive. Then, a large a transport rolled by.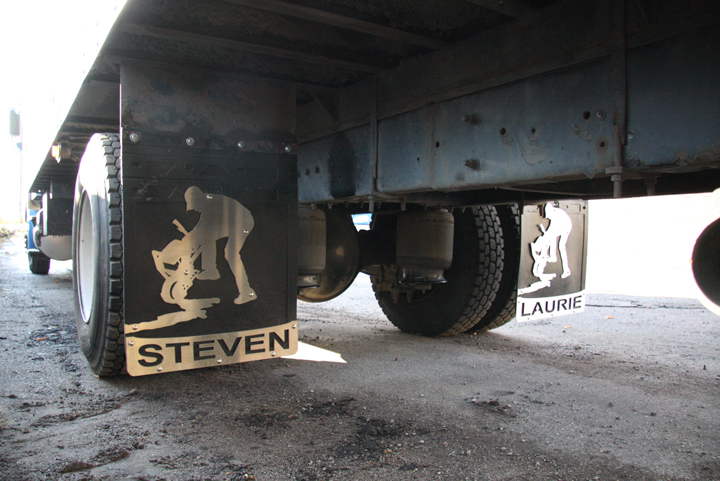 Mud Flap Project: Pacart's 5 Ton International Truck
For this particular hurdle, mud flaps seemed a suitable answer. A hypnotizing fixture for those familiar with the 401 or TransCanada commute, or even the endless black expanse when playing Cross Country Canada in the '80s, these rectangular pieces of dirt-and-salt caked rubber are directly in our line of sight, always boasting company names, silhouettes of women, or nothing at all but a blank, stained façade.
These pieces soon fell into the realm of art space in the months that followed. Laurie constructed pieces based around his existing practice using metal and rubber. Less conceptual and more of an ongoing invitation, these flaps bore the artist's first and last names, in addition to images of the artist's work as they found their way onto trucks that took long journeys across the country.
"The idea was social engagement more than a specific concept relating to the flaps themselves," Laurie contends, "I wanted people passing by, and the truckers who agreed to put them on their rigs, to be curious about why I was doing it. Kind of like a cross-country appeal to have a look into art and design."
Laurie's work, which often includes the alteration of motors and heavy machinery, is a good fit to be advertised in silhouette on the back of these massive rigs. The design chosen has also been in keeping with what typically appears on mud flaps. The truckers, while curious, were willing participants few different reasons. "This also gave them bragging rights when they went on the road," Laurie explains, "They got well-made, custom flaps. If they hadn't ever stepped into a gallery, that made them curious as to why I was having them installed on their trucks in the first place."
There are several flaps to go before the project is completed and dozens are already on Canada's highways. More recent work includes a grave-digging device and large branding irons that utilize traditional tattoo designs. In any case, Laurie's work remains primarily in the industrial realm, using colloquial imagery and popular, yet complex machinery to alter the viewer's perception in regards to their comparative use.